BRISBANE – KEEP UP THE PRESSURE RALLY
April 23, 2022 @ 1:00 pm

-

5:00 pm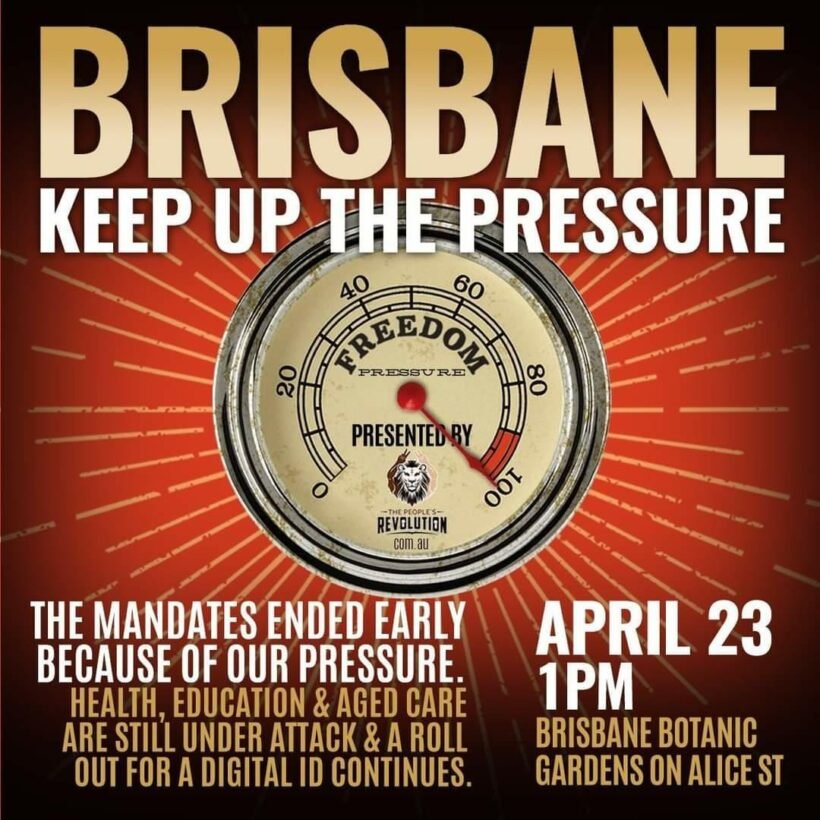 City Botanic Gardens – Alice St
For the first time since January 2022, the 23rd of April will see the People descend on Brisbane on a Saturday, in a show of awesome unity and strength, to remind the so called leaders, that we DO NOT BUY THEIR DECEIT OR TRICKERY!
THE DROPPING OF THE MANDATES, MEANS NOTHING TO US!
The Digital ID based on the total surveillance and control of the People, is being rolled out as the next phase of their plan to dominate the race, and hospitals, aged care and education are still under discriminatory mandates, which have zero logic or science to back them.
Anastacia Palaschzuk the QLD Premier, Yvette Dath the QLD Health Minister and John Gerrard the QLD CHO, have all cried "EMERGENCY", to enable the continuation of the State Of Emergency and gain extra powers, by way of voting through a treasonous bill, named The Public Health Amendment Bill 2022.
Four days after every single politician in QLD sold us out, apart from five, the dropping of the mandates was announced.
An emergency was declared on the 31st of March, giving the politicians extra powers and by the 5th of April, they dropped the mandates.
No thanks, we're not buying it and we will continue to mount pressure, we will continue to gain numbers, we will continue to raise the morale and we will continue to gain momentum, until we re-gain control of this beautiful country for the People….